Learn more about Netrivals' interface and sections.
Interface
The platform of price, ratings and reviews monitoring of Netrivals has an intuitive interface which is divided into 6 main areas. These areas can be easily spotted in the image below, as well as the distribution of each of the sections.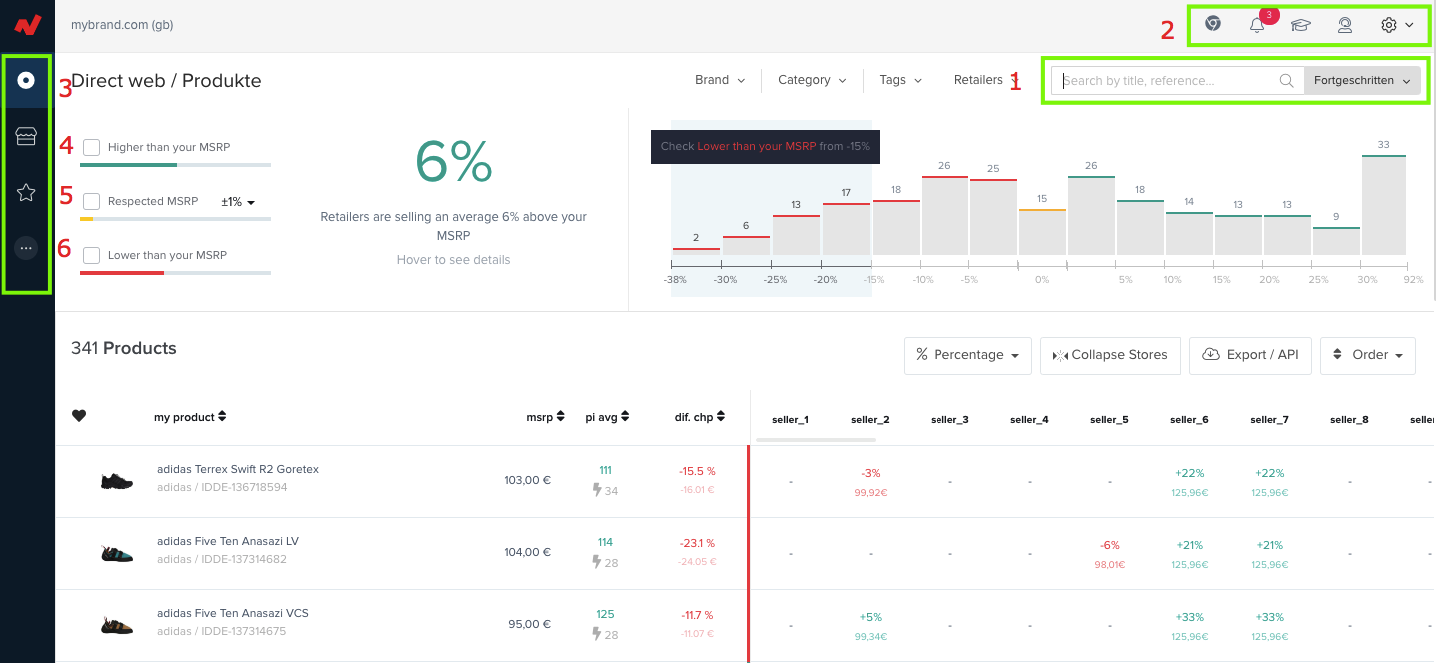 Sections of netRivals
Searching area: Look for products in your catalog. Search by filters (brands, categories, tags or retailers) or make advanced searches by retailers, prices, stock or connected products. You also have access to your saved searches.
Upper menu: You can read the notifications related to your account and our platform, enter the Help Center to find tips and learn how to use our Netrivals tool, and manage your users permissions from here.
Direct Web area: Visualize the prices of your retailers compared to your MSRP. Visualize easily who sells cheaper, more expensive or equal to your recommended prices. Explore the Analytics section as well as the equivalence section of your competitors' products. Take a look at and manage the retailers you are monitoring and access the "Distribution by brand" chart.
Marketplace Module: Get an even more comprehensive way of your products' performance inside the market and visualize your prices in each marketplace.
Ratings and Reviews: Watch what are the ratings of all your products according to the data provided from Amazon. You can also read the reviews left by your users in order of appearance and have a complete insight on your products situation.
Catalog and connections: Get access to your full catalog of products. Manage your connections, view the connections history and have access to the Smart Connections section, Reports and Feeds, and Google Chrome Extension.