Discover how to make the most out of users' ratings and reviews.
Visualize the data that truly interests you
The Ratings and Reviews section is the place to visualize in a clear and easy way what your users think about your products. All the data is extracted from Amazon, so you are going to need to link your Amazon products with the Netrivals solution.
Your Customer Success specialist will gladly help you with any problem you may have.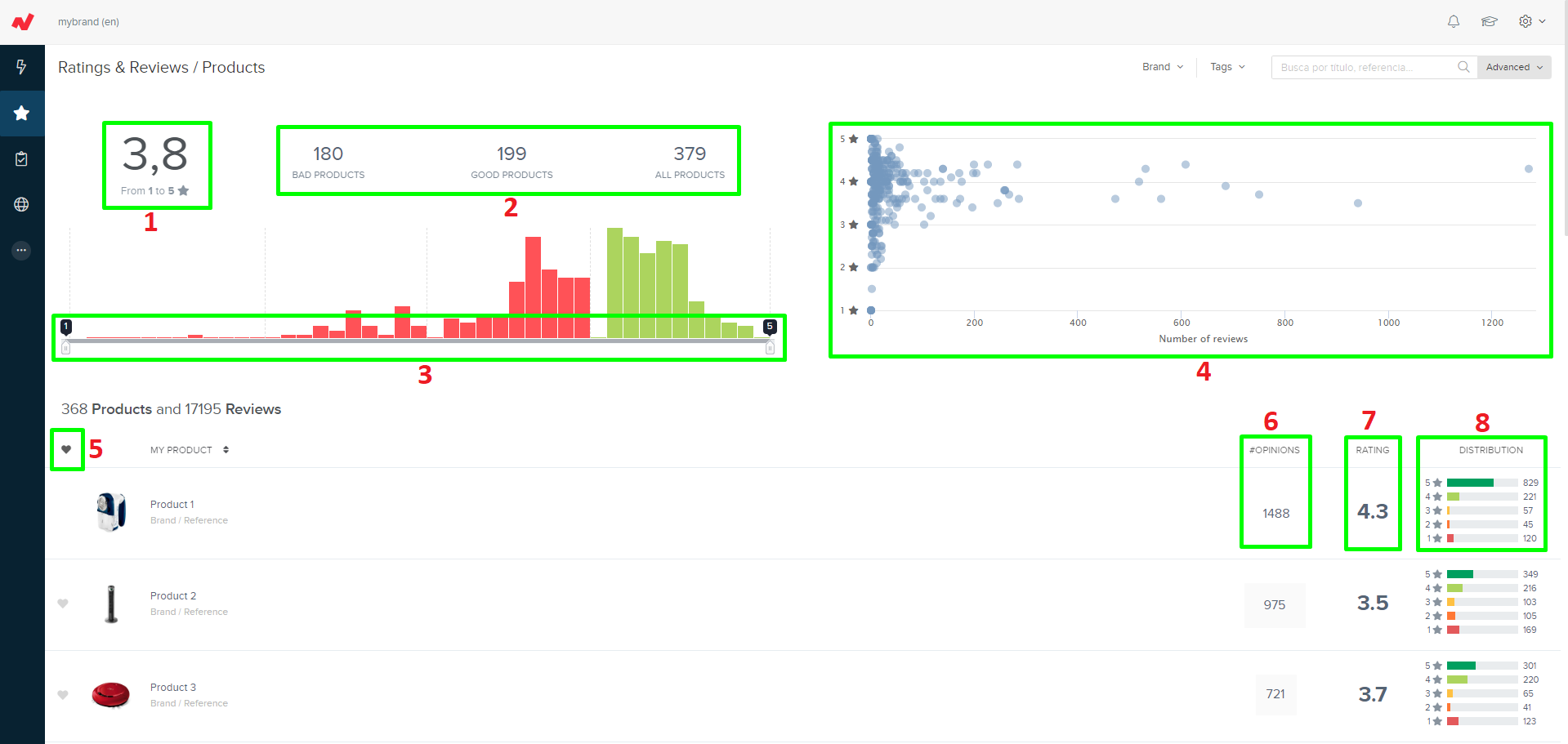 This is the average rating all your products have in Amazon, once we have collected all your data.
Your products are distributed in 'Bad products', that is, products that are under the 4 stars rate; and 'Good products', those that are above the 4 stars rate. 'All products' show all the products that have been tracked from Amazon. If you click on 'Bad Products', for instance, only those products under the 4 stars rate will be shown. If you want to see all products again, click on 'All products'.
Filter your products by the ratings range. The products within the selected range will appear below.
This graph indicates the number of reviews for each product by the value of the rate. Note that if you have many dots in the same area, you can zoom in the graph for a better understanding of the data. Each dot indicates the number of ratings with the same value a product received.
Favorite your product, see an image and title of the product.
Number of reviews left by users on Amazon.
Average rating of the product.
Check in detail the rating distribution for each product.
If you click on a product, its Product Detail page will pop up. For more information about the data provided in the product detail page, visit the Product Detail Page on our Help Center.
Amazon considers a bad product if it has less than a 4 stars rating.
You can also use the search tab above the graphs to look for a product by brand or tag. Besides, you can also make an advanced search and filter your searches by text, brand, tags, favorites or price ranges.
Every opinion counts
On the 'Opinions' section, you will find the latest reviews left by users on Amazon. They are organized by date of publication. So at the top of the list there are the newest reviews.
At the top of the section you can find the average of the reviews. It might be different from the average value from the 'List of Products' on the Ratings and Review menu, since some ratings might not be accompanied by an opinion, just the rate itself.
Here in this section you will find every opinion about your products, as well as the evolution of the ratings through history (last 3 months).