Learn more about the marketplaces vision provided by Netrivals.
An overview to Netrivals' Marketplaces Module
You can get to check how your store positions among competitors in the most important Comparison Shopping Engines. Currently, Netrivals Marketplaces Module offers information from 13 Comparison Shopping Engines.
Some of the comparison engines included in our module are:
Google Shopping
Idealo
Price Runner
Geizhals
Guenstiger
Billiger
How to access the Marketplaces feature
If you want to take a look at the presence of your competitors in Google Shopping, for instance, you can do this by accessing the Marketplaces section in your Netrivals solution.
You just need to go to the Direct Web section by clicking the first icon on the sidebar menu. In order to enter the marketplaces section, you simply need to click on any product you are interested in.
The Product detail page will open up. Right under the different tab options, there's the Direct Web, selected by default. All the data collected from your competitors' direct web will be displayed here. Next to it, the marketplaces tab is going to be unlocked if your customer plan allows it.
How does the Marketplaces Module work?
Right under the Direct Web, you can see a price range. That is the cheapest and the most expensive price found in the direct web searches. Next to it, if you have contracted it, the marketplaces will appear under the same format as the direct web.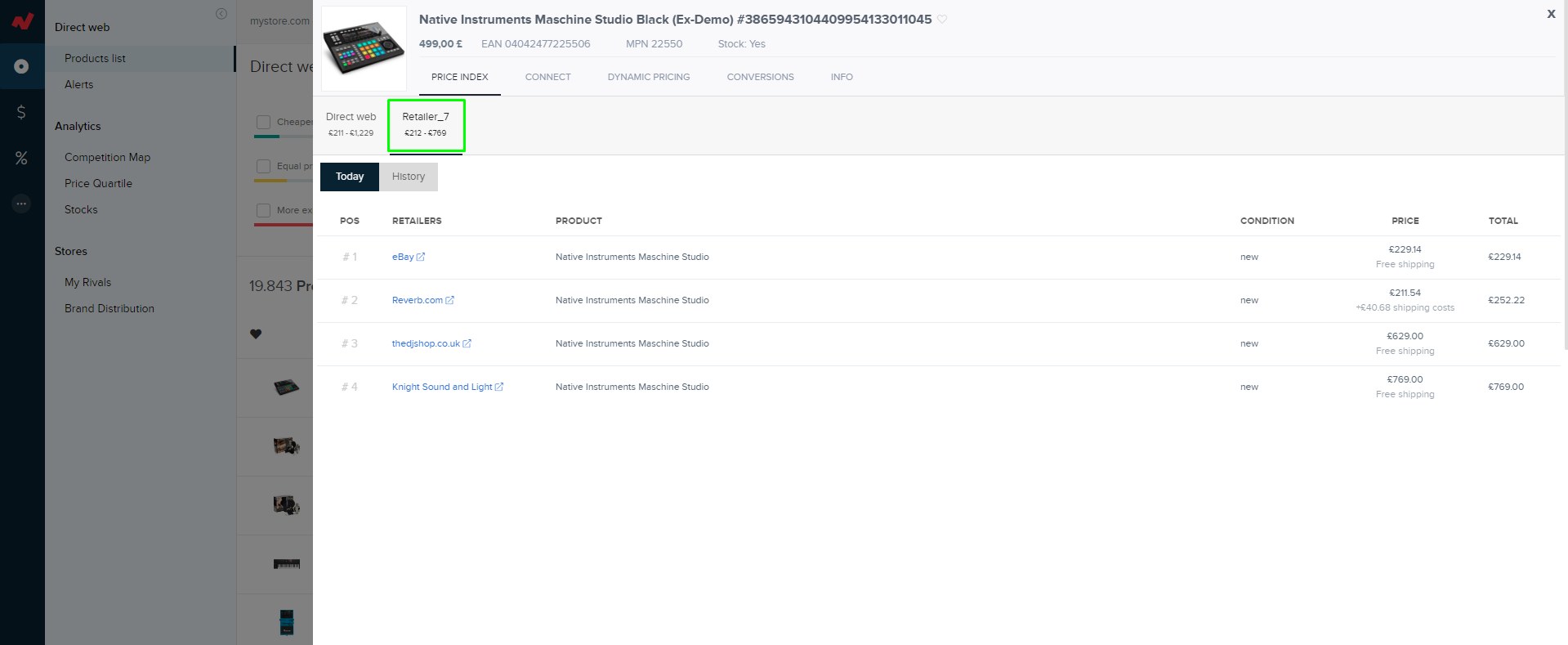 By hitting one marketplace, the new window will show you the different competitors included in that marketplace and their position concerning prices.
You can also see the pricing history for a specific product in the marketplace.

Here in the history tab, you can make a simulation of your price if you applied a certain percentage of price change. Unfold the dropdown menu called "% Threshold" to find all the percentages available and explore the many scenarios Netrivals has to offer you.
Take a look at the tack icon next to the retailer name. If you select the tack of a specific retailer, the simulator will calculate if your prices would be cheaper, similar or more expensive, if your prices were the same as that retailer in particular.
The following color code indicate:
Green: Your prices would be cheaper.
Yellow: Your prices would be similar.
Red: Your prices would be more expensive than this retailer.

Please note: You must upgrade in order to access the marketplaces. To enjoy its features, please contact your Customer Care Specialist or Account Representative.