Athletes are the great references for the 21st century society. Every child wants to be Messi, LeBron James, Naomi Osaka or Megan Rapinoe. The sports goods industry is aware of the influence that athletes, converted into continuous advertising spaces and core of the brands' marketing strategies thanks to media exposure and social networks, can have on product sales. It is worth noting the competitiveness in this industry, in which major brands (Nike, Adidas, Under Armour, etc.) also act as Retailers. An industry that generates more than 40 billion dollars in the United States alone and has as its competitors companies such as Nike, Amazon, Walmart or Asics among others.
As the owner of an e-commerce business selling sporting goods you probably keep trying to figure out what will be the next move of your direct competitors in the market. In order to succeed in this industry, it is essential to keep a real and updated picture of the market and the history of price changes of your competitors not only to check prices as they are today, but also to detect patterns of pricing throughout time.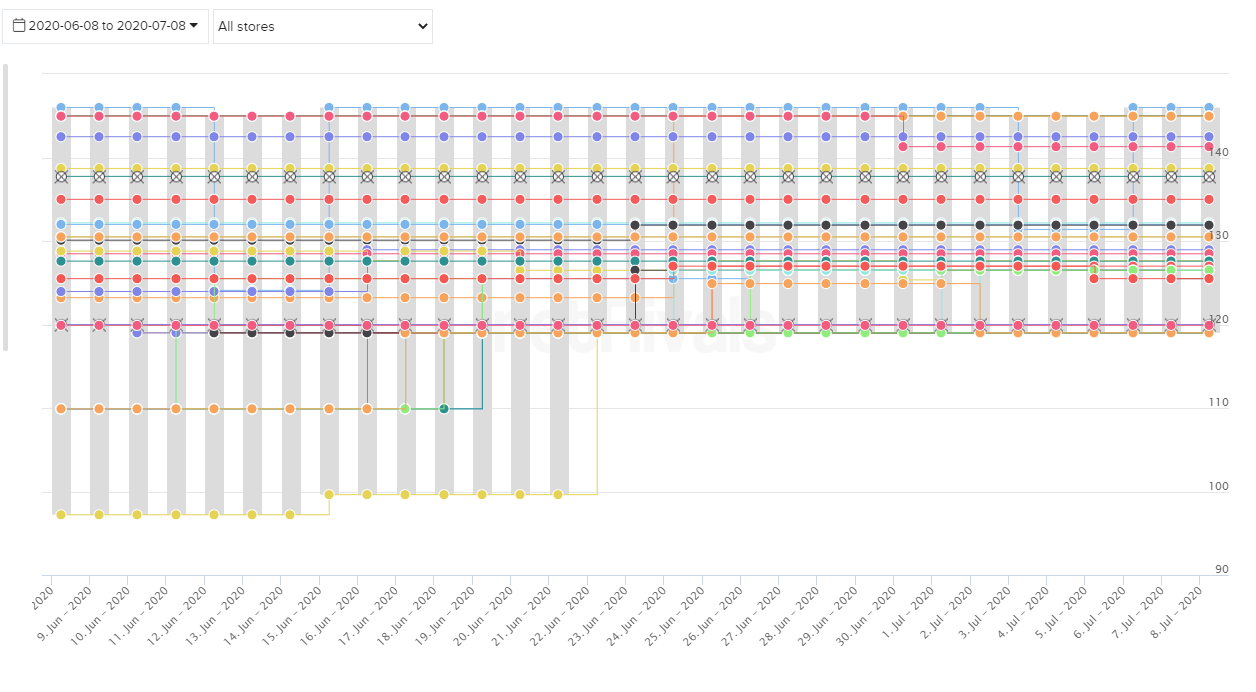 Assessing your store's positioning regarding competitors in the market
How does your store behave on the whole against direct rivals at a competitive level? You need to have metrics that help you analyze your positioning against competitors: On the whole are you above, below or equal to market average?

How to assess your competitive status globally
In order to modify and improve your current pricing strategy and better react to market changes you need to get to know first where your store stands among all rivals in your sector.
At this point we recommend you to analyze the status of your store on the whole and then benchmark your competitive level against each of your most relevant rivals.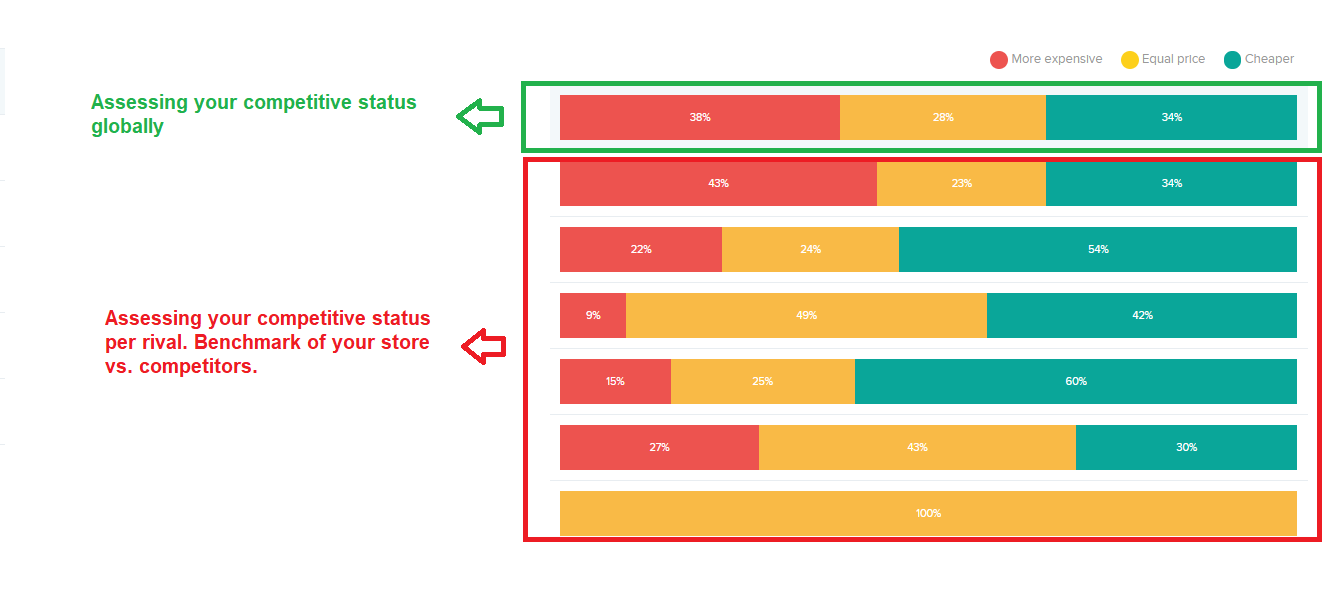 How to assess your competitive status in specific products
Another thing to take into account at this point is how you compete with your direct competitors in specific products of your catalog.
You may want to maintain a default strategy for specific categories or groups of products, or even in given brands. Nevertheless, you may want to pay particular attention to certain products for which you compete. Why? Maybe you want to pay close attention to the behaviour of new models or you want to closely watch who leads the price change for products for which you have a very distinctive strategy compared to other items in your catalog.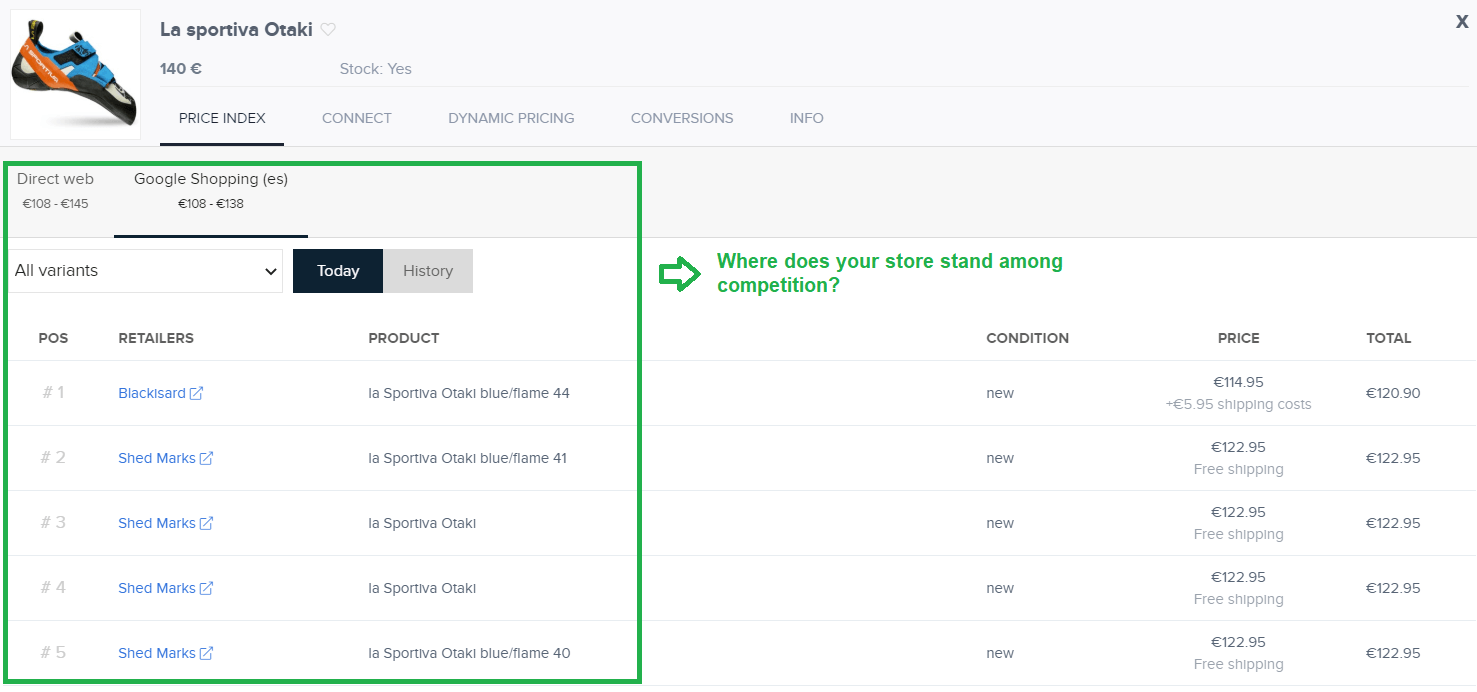 Detecting pricing patterns: throughout time, availability and season-sensitive items
The points we have just mentioned above are key to finding out the competitive status of your store at real time and assessing how you are pricing your product catalog as opposed to rivals in your sector. However, it is also interesting to study the pricing trends among your rivals and spot patterns. Based on any custom time range, can you notice any price drops or increases in specific times of the year? Does it coincide with relevant e-commerce dates? Can you spot what is going on with prices of season-sensitive items? How frequently are your competitors carrying out product promotions?
In Europe the first big date for e-commerce comes with Blue Monday ( the third Monday in January), known as the saddest day of the year, when e-commerce shops offer discounts to "cheer up" consumers. Other important days include Valentine's Day (14 February), Mother's Day (second Sunday in May) and Halloween (31 October). It is important to understand that during these periods of time price decreases are expected and the need to evaluate the price drop and the need to define a smart discounting strategy. A good way to reduce the effects of lowering profit margins during this time is to assess the fixed costs of your online store and try to be more efficient, for example, by avoiding unnecessary storage costs due to having products that do not sell.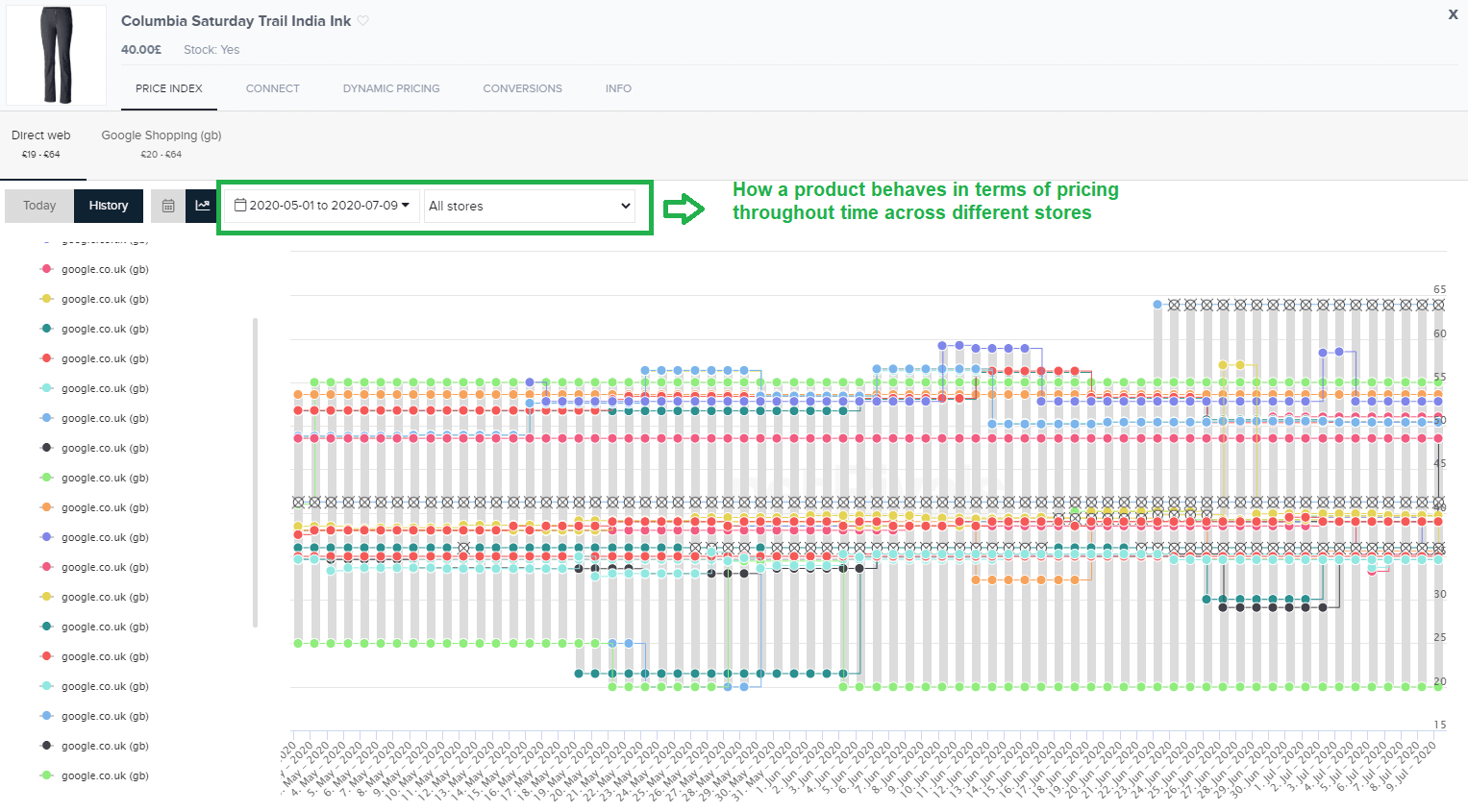 The sports goods industry is one of the most seasonal industries (along with the toys and games industry). While there are products that are not affected by the seasons – running shoes for example- a large number of products are affected by seasons. The clearest examples can be found in water sports products, which are usually bought in the months before summer, or snow sports products. While in the mid-season more nature sports are often practiced, such as trekking, hiking or climbing.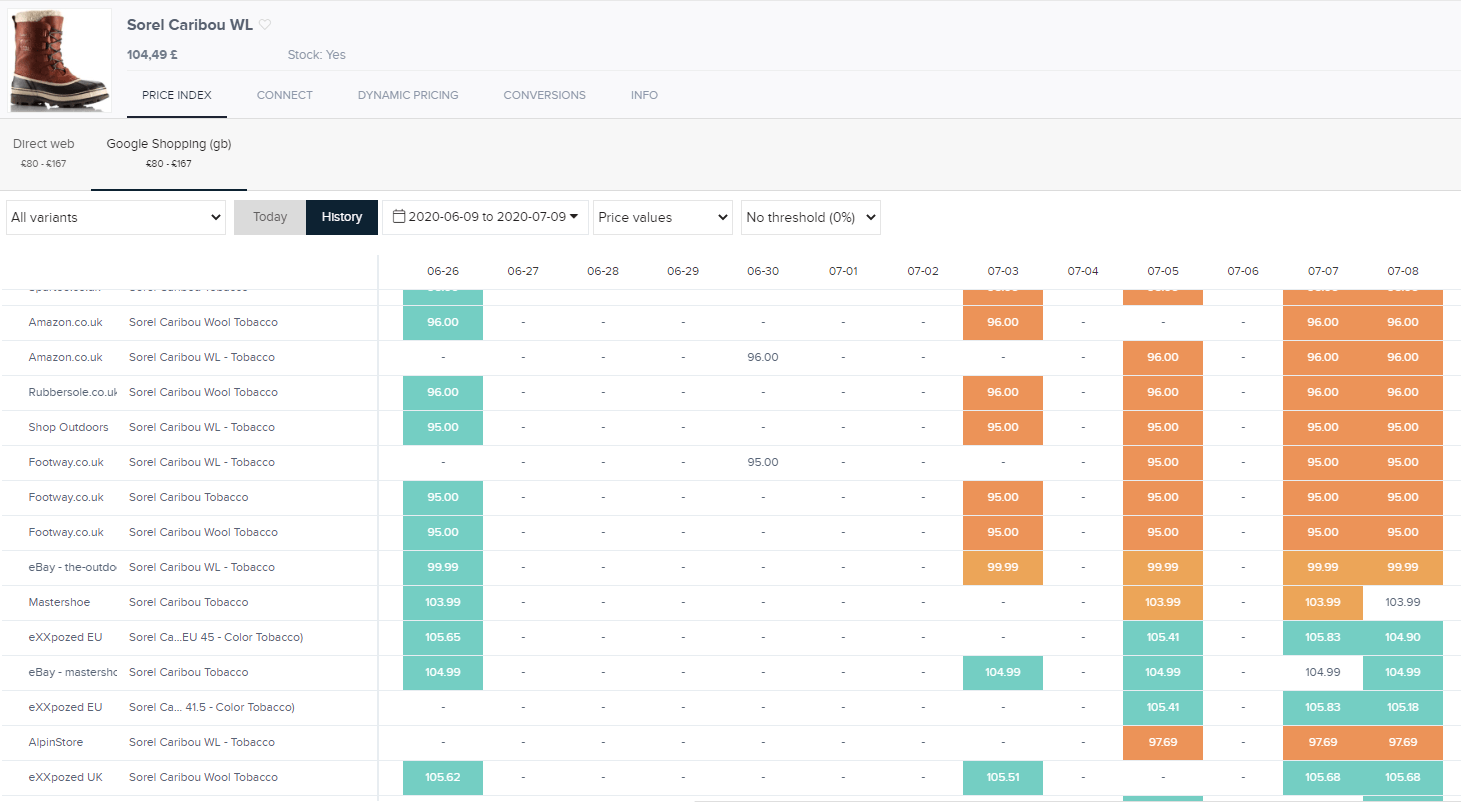 In addition to expected price changes, such as changes in products with high seasonality, it is important to check if the competition is carrying out promotions on products in order to finish the stock and thus rotate their inventories. If you don't analyze your rivals you may find yourself in a situation where you have the highest price, which will make it difficult for you to sell products and therefore the profitability of your online business.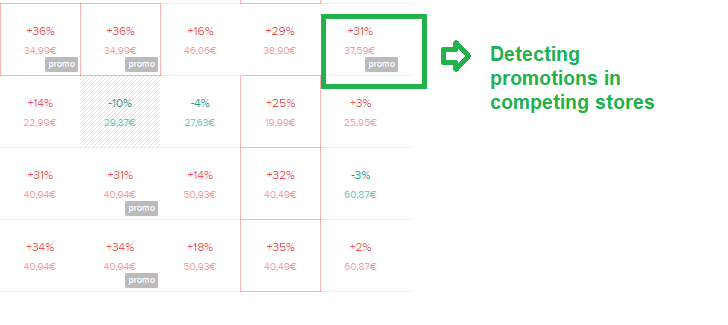 How do prices differ when including shipping costs?
Managing shipping fees for your products is not an easy task, as you have to be careful throughout the process. Prices can influence such important aspects as getting the BuyBox on Google Shopping, which would represent a big boost in the products you sell. It is important to benchmark your store's performance against your competitors' on an equality basis. So if you are charging a specific price for the shipping of a given product and your competitors are shipping that given item for free you may be losing conversions when advertising that product on Google Shopping for instance. It is important to have a global price vision and being able to analyze how you compare to rivals in this respect. Also this can be very useful so that you know specifically how much your rivals are charging for their shipping.
Reacting timely to price changes made by direct competitors
Changes in your pricing are very relevant since they directly impact the conversions of your e-commerce store. The only relevant thing is not the price, here though, but also how timely such change is.
Sometimes you may be facing a situation in which a given product suffers several price modifications throughout a given period of time. In any of the cases, it is paramount to timely know when your rivals make such modifications.

The ultimate goal is to drive conversions to your online store, that is why timely reaction to keep up with market changes is paramount to gain competitive advantage and ensure visits and purchases to your online store.
Nevertheless, the market is so crowded with competitors in this industry that taking timely action may be quite a challenge.
By carrying out a pricing strategy that takes into account different competitive market scenarios you can stay ahead of other competitors that may not have such a timely reaction to market changes.
Take your time to evaluate how your store competes against direct competitors and take into account costs and limits in margins that may restrict your price flexibility. It's critical that you establish how you want to compete in:
Particular Brands

Specific categories and product groups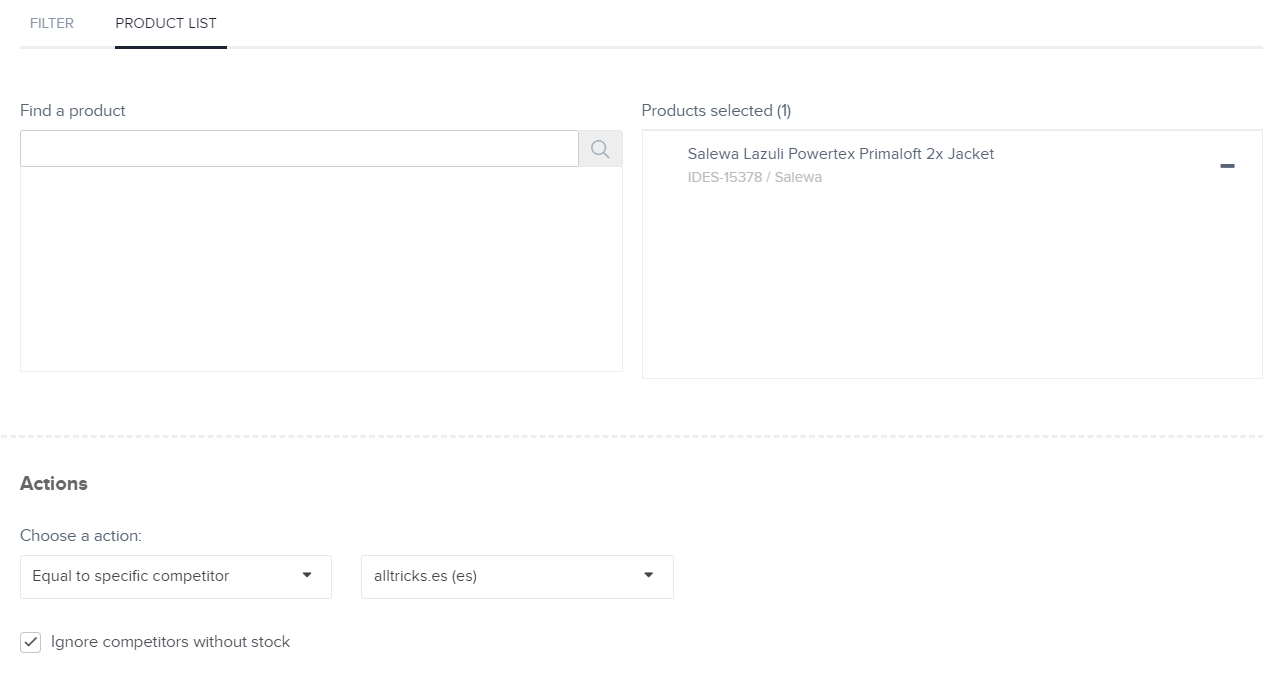 Certain products that need to be treated differently from the rest of the catalog.

Final Thoughts
To make a pricing strategy for your ecommerce in the sporting goods industry you have to know how your rivals compete, therefore it is necessary to make an analysis of both the competition and your own products and their prices.
Assessing the reason for the price changes will allow you to act quickly to continue to be competitive. In order to keep a close eye on the competence and the price changes in the products, it will be necessary to use a big data tool that will help you understand the situation of your company in the market regarding the rivals so that you can act accordingly.
Likewise, it is important to evaluate the performance of specific products in your catalog, since this is a market in which many products are in constant evolution, which can make your company not sell as much and therefore have less profits.develop the right pricing strategy to make your ecommerce successful