To improve the pricing strategy of your e-commerce business, you need to go through a detailed business competitor analysis that allows you to base your decisions on reliable data. This competitive study gives you the tools to react appropriately when your rivals make pricing changes. At the same time, it offers you the possibility to be more proactive, through the early detection of opportunities to improve your positioning or even determine if you are in a favorable scenario to optimize your profit margins without losing conversions.
An accurate competition analysis must take into account the factors that directly impact the positioning and conversions of your online store. And so, here are some tips that can help you optimize that analysis and, consequently, your online retail strategy.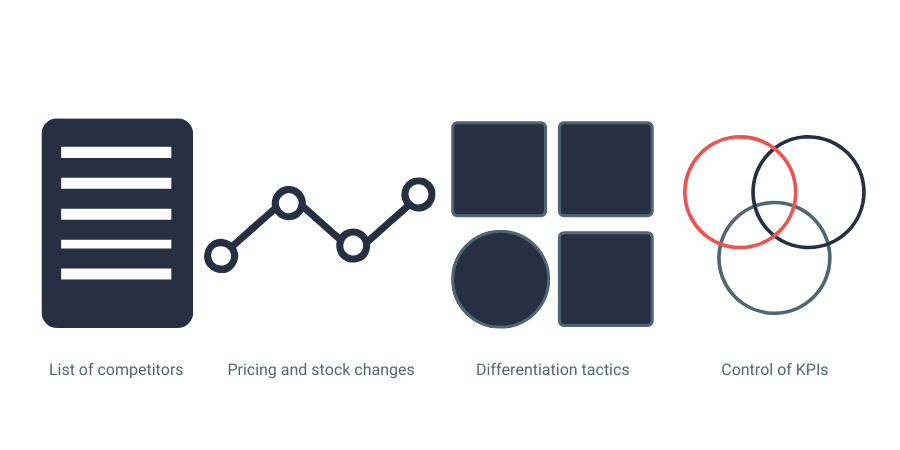 Study your market to draw up a list of competitors
---
In order to perform your competitive benchmarking, you need to determine who your direct rivals are from the beginning. The market research is critical to detect markets where there is a greater degree of rivalry or opportunity.
The first thing to consider is whether your business will operate in a single or multiple countries and, if so, whether you will work with different currencies. Each market is different, and competitors can vary greatly from one to another. Research the biggest rivals for each country and, when you have a first list, refine your list further by analyzing each of the stores and specifying which of them have a catalog closer to yours. As far as prices are concerned, would you say that you match them in the most demanded products? Is there a great disparity in prices? It is critical that you never stop analysing your sector in order to keep abreast of threats and opportunities, both present and future.
Use competitor price tracking to detect pricing and stock changes
---
With a clear classification of stores to monitor, the next step is the benchmarking of your catalog against your rival stores.
Tracking pricing movements and stock status of your rivals is crucial for the growth of your sales, as this is what gives you the ability to react and data necessary to adapt your pricing to the environment in which your online store is located.
A complete view of your rivals' price changes over specific time periods, as well as knowledge of their stock status can equip your business with the competitive advantage needed to optimize both your reactive and proactive capabilities: detect recurring patterns in your rivals' price changes, and discover opportunities to take advantage of your stock availability to expand your profit margins.
Search for differentiation tactics
---
In most cases, achieving differentiation is difficult when competing with identical products. For this reason, it is useful to find other differentiating elements that help improve the consumer's perception of your online store.
One of the first factors is price, of which it has already become very clear that it is necessary to carry out a continuous monitoring and to learn how to readjust it according to the needs of the market. You can also use other resources that attract the customer and generate more conversions: discounts from purchases of a certain quantity, discounts on future purchases, price reductions in specific brands, are just a few examples.
Other elements that can help in this differentiation are those based on other advantages associated with the purchase of the product such as free shipping for purchases over a certain amount, gifts or any other benefit for the customer linked to the purchase of one of your items.
Last but not least, your store should stand out for good customer service. Make sure you have optimal service both in the pre- and after-sales.
Keep under control the KPIs which are fundamental to your e-commerce business
---
The last piece of advice for improving your strategy lies in the continuous monitoring of critical KPIs such as Price Index, Margins and Conversions.
The Price Index or PI is a metric of extreme relevance to check the positioning of your store with respect to your competitors. Always keep it in mind to ensure that you do not lose competitiveness in the sector. However, never isolate it and contextualize it along with the margins and conversions of your business.
Margins are the basis of your profitability. Learn how to set prices that do not risk your minimum margins, both globally and in specific categories or brands. A winning strategy will be aimed at improving PI, as well as protecting and optimizing margins.
Conversions are the definitive proof of whether your pricing changes have yielded the desired results. If you have not put your margins at risk, you have managed to optimise your positioning and your conversions have been increasing, you will have found the secret of success. Maintain a continuous control of the evolution of your conversions for top-selling products and those in the long-tail. Always look for ways to improve your pricing tactics and base your decisions not only on the state of the market, but also on internal metrics such as costs, minimum margins, etc.
If you want to know more about this topic and other aspects of improving pricing for e-commerce business, do not hesitate to visit our resources section to get more useful data to help in the management and daily optimization of the performance and profitability of your online store.