When looking for a product a lot of people start their research in Google and most of them click on the first options shown. As many of us know, the first options on Google search are usually web page advertisements followed by the best organically positioned websites. However, nowadays we can also see at the top of the page different images with the products that we are searching for, these are Google Shopping ads.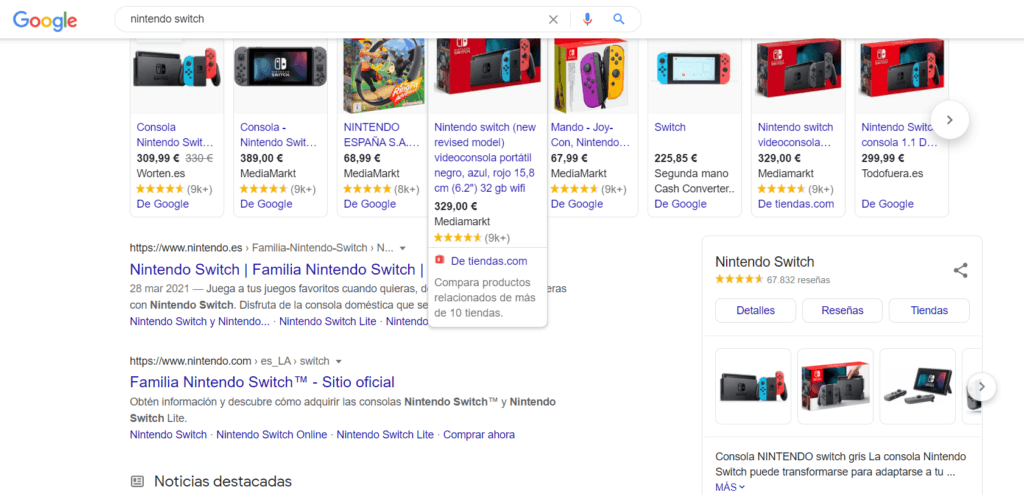 How Google Shopping ads work in a nutshell
If you have an ecommerce business you have probably heard of Google Shopping, the shopping engine which allows the consumer to search and compare products based on price, reviews, photos, etc. This platform is not only for the use of consumers. It also allows retailers and brands to advertise their merchandise in a more attractive way.
Google Shopping offers their clients the possibility to connect with their customers in a more visual and direct manner. When using Google Shopping, stores willing to promote their products need to create ads that are both visual and informative that with a single click customers land in the product page, and this is one of the most compelling assets that this platform has. Each Google Shopping ad must have an image, title, the price and the name of the store. On some occasions they may have reviews, promotions or other additional information.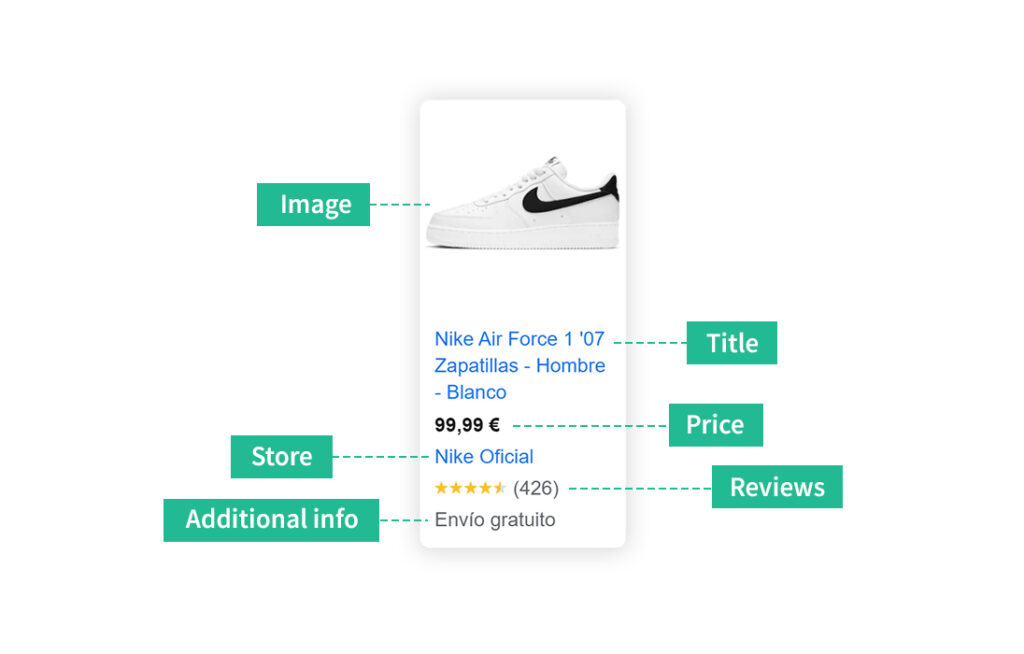 There are a few reasons for which creating Google Shopping ads are a great idea for your online business. The first thing to take into account is that this kind of ads are very visual which gives you the opportunity to truly display your products and show them off. The second reason is that Shopping ads are Intent-based, but what does that mean exactly? Consumers are searching for your product and therefore there are more possibilities for you to convert. Lastly, if you want to be at the top of the page the best way to achieve this is by having the best Shopping ads and a healthy budget, with these your ads will be featured on the first page.

What attributes to take into consideration?
When creating your ad there are a few things to bear in mind. The most important is to remember that a Shopping ad is configured as a tab and it is activated from a search query and negative keywords selected by the creator of the ad. Also to have a great Shopping ad you should pay attention to the following points. Firstly, it is very important to have a good product photo, one that is not only descriptive, but also different so it stands out. Secondly, your title has to be informative and short more or less 34 characters so that the viewer can see it all. And finally your price has to be attractive since it is one of the aspects that stand out the most.
As we said before, Google Shopping is a shopping engine in which the consumers can have the opportunity to search, find and compare the different products. They don't only spend time looking for the perfect product, but they also invest it in getting to know everything about the object they are about to purchase.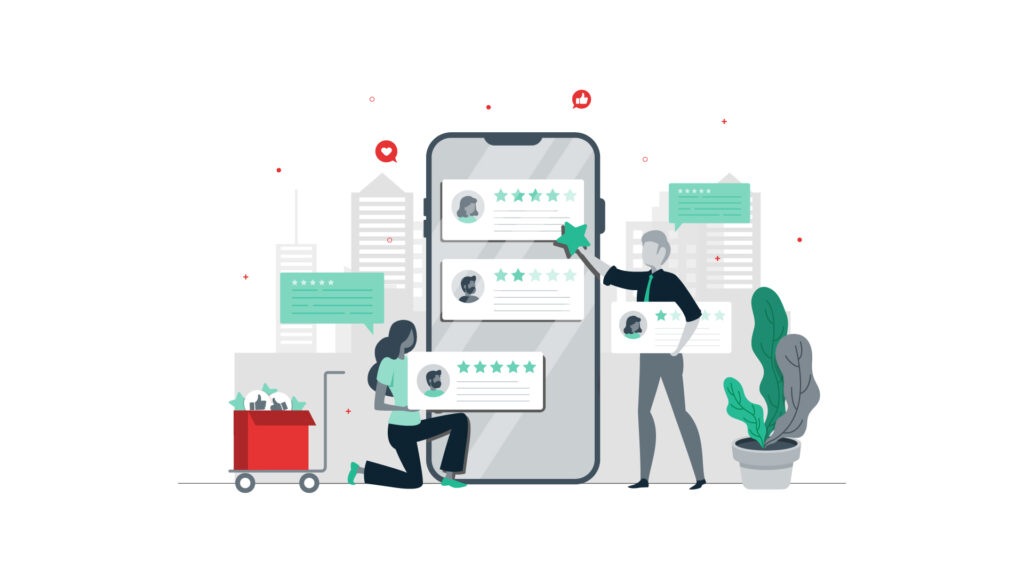 They take into consideration the reviews, the quality of the product and of course, the price tag. This is why it is very important to have a good pricing strategy, so you can stand out from all of the rivals that you may have on the platform.
Price: Key attribute in products promoted in Google Shopping
To achieve the correct price for your product it is essential to know at which price you are willing to sell that product, without forgetting a critical point here, which are profits/margins you want to safeguard and costs derived from product purchase. There are other relevant factors to bear in mind as well, since this may affect the price-decision making prices, such as: is this a new product launch? Are these products in high demand? how are you competing against other rivals in terms of stock? This may sound like a lot, but when having the correct tools it is quite simple and effective. In this regard, platforms for price analysis like Netrivals play an important role when gathering competitive intel and real state of prices in the market. These types of tools allow you to explore the market and learn how different stores compete when it comes to positioning of identical product offers. The value of such a solution, is not only the fact that you can get to gather all this competitive intel, but also the ways in which you can activate such information for your own advantage. If you are considering a comprehensive solution that will allow you to leverage such market information and boost your e-store performance you need to look for tools that count with a dynamic pricing feature.
How can dynamic pricing help you set the right price for your products?
As you might know, dynamic pricing consists in automatically adapting your product prices based on the set of rules you have predefined. To obtain the perfect product repricing you should keep in mind the following steps:
Decide if you want to include all your competitors on the equation, or if there are a few which you are able to exclude.
Prevent price changes to occur on products which are blocked by your minimum margin.
Choose which products, brands, etc. to include or exclude from the process of repricing.
Take advantage of the stock alarm and elaborate an advanced pricing strategy for when your competitors fun out of stock.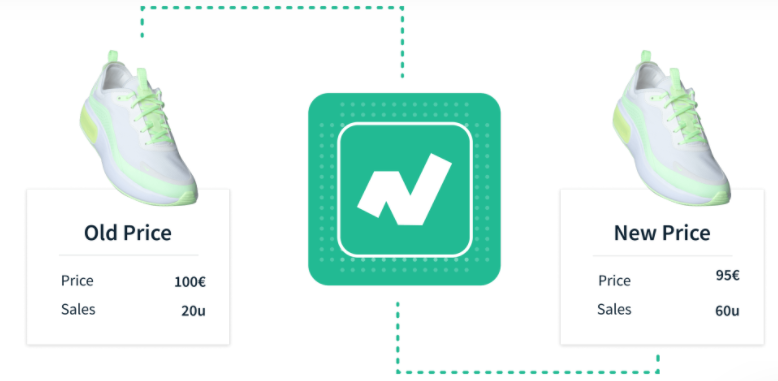 Being able to change the prices of your different products will allow your store to be more competitive and therefore attract more customers and increase your conversion rate. It is important to keep in mind that when you change the price of your products on your web, you also have to do it in your Google Shopping feed, with a dynamic pricing tool, this task will be easier and more automated.
Final point: How to assess the effectiveness of prices you've set for your promoted products?
So far, the theory sounds good, but how do you assess whether your strategy is effective enough for the products you are willing to promote? For sure, in order to evaluate this last point you'll need to pay close attention to how your conversions evolve before and after a specific pricing strategy is implemented for your online store.
Most people would keep track of this information via Google Analytics, which is definitely a go for in order to detect any changes in traffic and conversions in your online store. But how do you combine this information with the competitive intel we were talking about in previous points? One solution would be to create a custom dashboard that would allow you to get a single point of access to all the gathered market information. But then, you need to have access to Business Intelligence tools like: Power BI, Tableau, Qlik Sense or Data Studio and a dedicated team of Business Intelligence, or at least a data analyst that ties all this information together.
If, on the other hand, you want to go for something which is already prepared and ready to use, you can try solutions that combine different data sources to leverage all this competitive intel from an all-in-one view. For instance, in the case of Netrivals, you can combine all the relevant KPIs from your Google Analytics account and combine them with information on profits and market average prices provided by Netrivals to check whether the strategy you've developed from the Dynamic Pricing feature is having the expected outcomes.