The high level of competitiveness in the world of online retail has pushed e-tailers to analyze with more attention the pricing movements of their competitors. This practice is commonly known as online price monitoring and is very recurrent among stores that compete with products identical to those of their competitors, which makes it difficult for them to achieve differentiation in the market. The volatile nature of pricing has been a factor that has greatly favoured the spread of this activity among retailers, as attempting to track competitors' prices manually can be a daunting task.
How does e-commerce price monitoring work?
---
In the market there are tools that are used to track the prices of direct competitors. This type of platforms are very useful to have a better control and vision of what is happening in the market. In the same way, they also provide the opportunity to analyze the impact that competitors' price fluctuations and your own pricing actions have on the positioning of your e-commerce business.
What are the key features of this type of platforms?
---
This type of tools can perform daily and automatic price monitoring of all rival stores a given retailer may have. In this sense, it is important to consider how prices will be monitored, or rather, from where. It frequently happens that retailers only give importance to top-selling products and that is why they choose solutions that only track prices available in Google Shopping. However, this could cause them to lose relevant information about what happens to the rest of the products in the catalogs of their competitors.
In addition to this point, it is worth explaining on other types of data that the solution you choose should provide: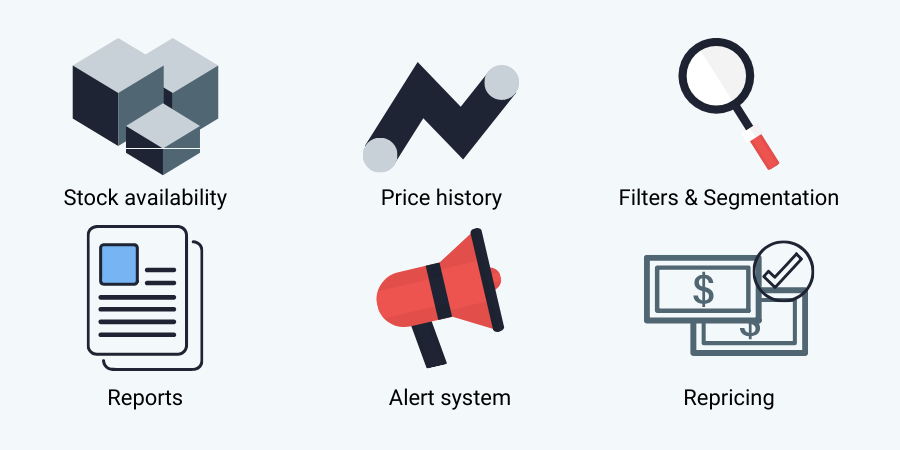 Stock status: Knowing the stock status of your competitors gives you a great strategic advantage. When your competitors have stock in products for which there is a high demand, it is difficult to maximize profit margins. However, if your competition does not have stock for a product but your store does, you can take advantage of that state and readjust prices to optimize profit margins.
Price history: If you have a good view of the price changes of your competitors over time, you will be able to detect recurrent movements in their pricing. This will help you to be more proactive in your strategy.
Filters and segmentation: You will need to be able to segment your market vision based on brands, type of products, names, references, tags, and other filters that you consider necessary.
Generation of reports: The ideal thing is that you save the filters we mentioned above and use them to generate reports. This will help you save time in finding data you frequently check and you will not have to perform the same searches again and again.
Alert system: If you don't have time to filter and check the status of certain products, it is best to create alerts that warn you of changes happening in the market and the pricing and stock of your competitors.
Repricing: This is a system that allows you to readjust prices for certain products in your catalog based on rules you have established that take into account factors such as competitors, minimum margins and specific brands.
If you want to know more, you can continue browsing our resources section or visit our website to find out more about our solution. If you prefer, you can also talk directly to one of our product specialists and avoid waiting.