Developing a Google Shopping bidding strategy is the best way to run an efficient and effective product campaign on Google. To refresh your memory, let's remember the different bidding strategies available on Google Shopping:
Standard shopping: you can use Enhanced CPC,Clics maximization or ROAS.

Smart shopping: here you can apply Maximize conversion value bidding and Maximize conversion value with target ROAS.
How to optimize the process of a Google Shopping campaign?
The most common process for a Google Shopping campaign to succeed, is starting with a general campaign. Usually, an enhanced CPC is applied and, once you reached +50 conversions in the last 30 days, you will start using a target ROAS.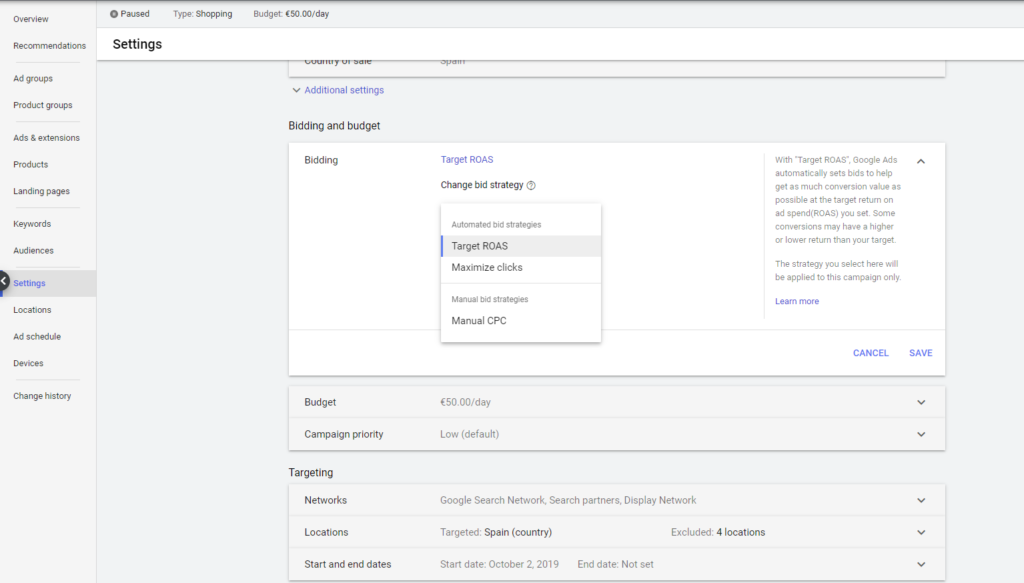 The reason for this change is simple: once you have achieved this amount of conversions, you will have adjusted a real (and in the best cases, an ideal) cost of Ads spending. At the same time, the system is going to recognize the users' behaviour with a higher probability of conversion.
Once you get to this point, the campaign will work on its own. This is –by far– the best bidding strategy on Google Shopping, even though it implies certain inconveniences. Let's check them out.
What is the inconvenience of using a click maximization strategy?
By applying this strategy, you are telling the system to optimize the campaign with the goal to obtain the biggest possible amount of clicks within your fixed budget. Thus, it does not consider the purchase intention of the searches that activate your ads. Then, concerning other strategies, it will not improve its performance no matter how much new information it obtains.
ROAS' issues
Once you moved to ROAS and your campaign gives you a good performance, you need to analyze periodically what products are generating the incomes. By telling the system that you need to maintain a certain cost percentage over the sales, the system will not only focus on displaying the products in relevant searches but also on showing products that fit in your target ROAS.
As you may have already heard, Pareto's law explains that, in general terms, the 20% of your catalog provides the 80% of your total incomes. The biggest problem with ROAS is that it wants to obtain sales with a controlled cost. If it detects that a part of the catalog does not generate profits it will stop investing in this part and will only show the products of your catalog that generate income.
On the one side, the target ROAS system must be adjusted to the targeted goal, and on the other side, it detects that products generate very different ROAS. Thus, target ROAS starts showing solely those products that offer a higher performance.
Nonetheless, in case you want to show the whole catalogue or boost categories which are not obtaining such good incomes, you need to exclude those products from the target ROAS campaign and add them in Shopping campaigns with enhanced CPC.
---
Remember that the most efficient way to add your e-commerce catalog to Google Shopping is by using pricing software such as that offered by netRivals. This system allows you to see which products are the most competitive in your inventory in relation to the market average. With the software you can also set up dynamic pricing strategies to adapt to the price changes of your rivals and always be cheaper while respecting your profit margin.