Fashion accessories' industry is undoubtedly one of the most relevant industries in the market. Its wide variety of products, categories and brands, support the success of it. If you are working in such a sector, analyzing the fashion accessories industry is an excellent way to stand out from the vast amount of competitors and increase the sales of your e-commerce store.
Facts about the fashion industry
Fashion is one of the most dynamic sectors in the e-commerce business. Experts estimate that the number of online sales for the fashion industry worldwide reaches 36% of the total retail sales in 2022, which translates into total revenue of 765 billion dollars, according to a fashion industry analysis made by Forrester.
The CAGR (Compound Annual Growth Rate) is expected to lift 8.8% in the US and 8.7 in Europe between 2017 and 2022. In many European countries, such as Germany or the UK, the ratio of fashion sales made over the internet stays around 20%, while in Spain or Italy it does not surpass 10%. However, there is a general upward tendency and data evidence continuous growth in the online fashion industry.
Top selling products over the internet are (other than general clothing) footwear, children's fashion and eyewear.
The seasonal consumption, the variety of ranges, brands, products and categories, and the implementation of new easy return systems, keep the fashion industry growing up and give it a considerable growing projection for the following years.
Nevertheless, in terms of e-commerce, this growth translates into an increase in competition that works in this industry. Thus, given this intense rivalry between competitors, it seems indispensable to have the proper tools to stand out from the competition and offer genuinely competitive prices that catch the attention of potential customers.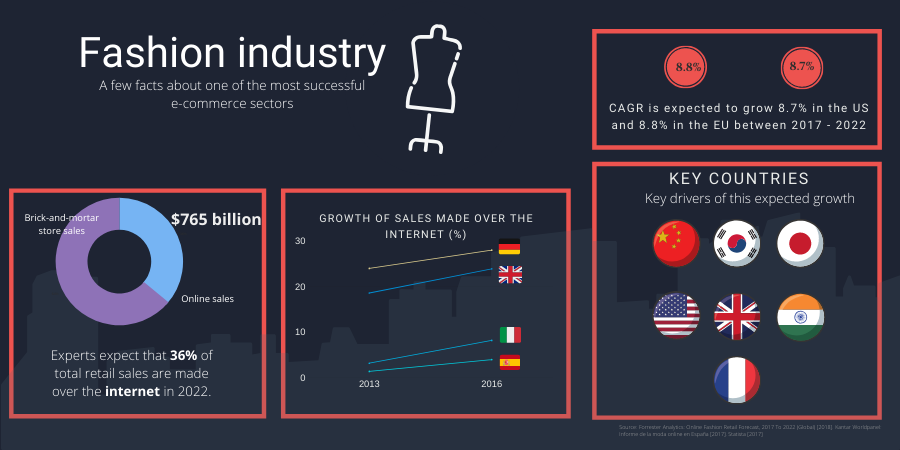 Analyzing fashion industry prices and increasing competitiveness
---
If your e-commerce is working for the accessories sector, it seems indispensable to make proper fashion industry and trends analysis, given the current upward-growth scenario this industry finds itself in. This is not only giving you significant data about the current status of your particular vertical, but it also will provide you with data, with which you can define a much more competitive pricing strategy.
An excellent way to do this research is by keeping track of your brands and competitors' prices. By keeping track of your brands, you can identify who the competitors with the lowest prices are; and you can use that information afterwards as a resource to negotiate better purchase conditions with your suppliers.
This pricing trend analysis will be much more trustworthy and optimized if it is done via automated tools. These tools, as well as providing you with a more significant volume of continuously updated data, will also save you money and time.
Improve your pricing strategy watching the fashion accessories prices
---
Then, these tools are helpful for both Purchasing and Pricing Department, as they help you increase your store's competitiveness and stand out from your competitors with prices that really match the real market's situation.
Procurement Department can manage and keep track of brands to get to broaden the theoretical margin of your products. Then, Pricing Department will have the chance to have a broader range to regulate prices in order to maximize the profitability of your products.
The fashion industry is a very dynamic sector, mainly because tendencies and fashion style changes every season, so it is important to always keep updated of your vertical's prices in order to react on time and keep up the level of competitiveness inside your market.
Besides, controlling the three primary metrics of your e-commerce will give you more precise insights into which pricing strategy employ to increase competitiveness. Take a look at these three indicators: price index, profit margin and conversion rate. Nonetheless, do not especially focus on one of them, as they are correlated with each other, so if you modify one of them, another will vary too.