Being an e-commerce business owner can be challenging, you probably have a lot of things on your plate like keeping track of your KPIs such as conversion rates, profit margins, and, of course, your competitiveness in regards to your rivals. With all this to worry about, data capture should not be one of your pains, on the contrary, it should be a facilitator. You should be able to see, read and analyze the information to make better decisions when it comes to your business and the completion of your KPIs.
Data once again is very important and 100% indispensable to obtain a correct picture of your competitors and the state of the market you want to penetrate or you are currently operating in. The idea of this task may be overwhelming and overall just too much work on top of your already tight agenda. This is why having a power tool with a solid Big Data foundation is a great idea because in the end this type of solutions can provide you with the intel you need to take actions that will help you maximize the profitability of your online business.
How Product Attribute Analysis tools can help different departments in your business
Tools that go beyond price tracking and analyze in more depth additional product attributes can benefit a great deal each of the main departments involved in product and pricing management. Let's have a look at some of the cases:
The pricing department: Pricing specialists can benefit from tracking current prices in the market, along with average prices on sales channels, and the history of prices for each product they are monitoring. With this sort of competitive intel, any pricing manager can get access to the critical data they need to improve their pricing decision-making process.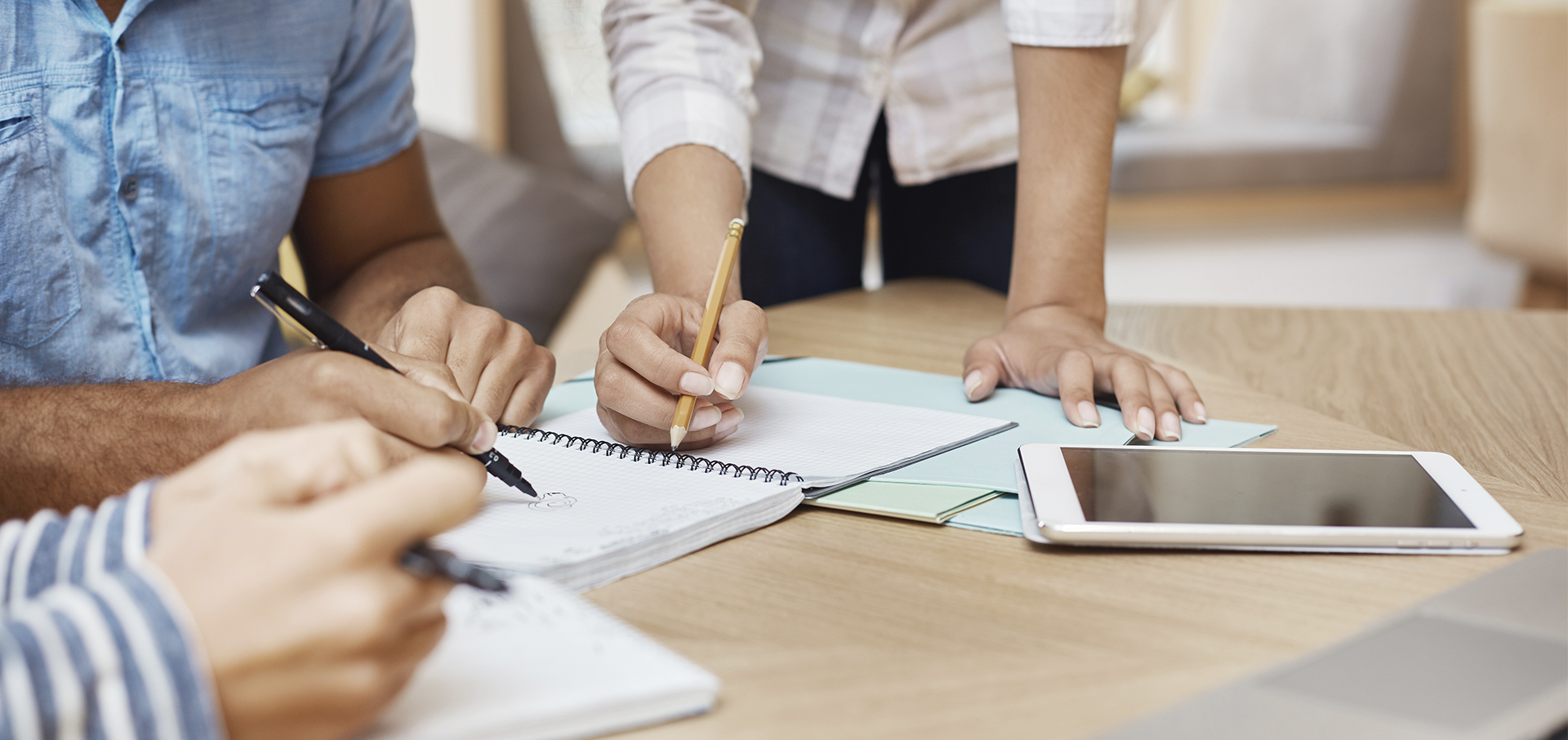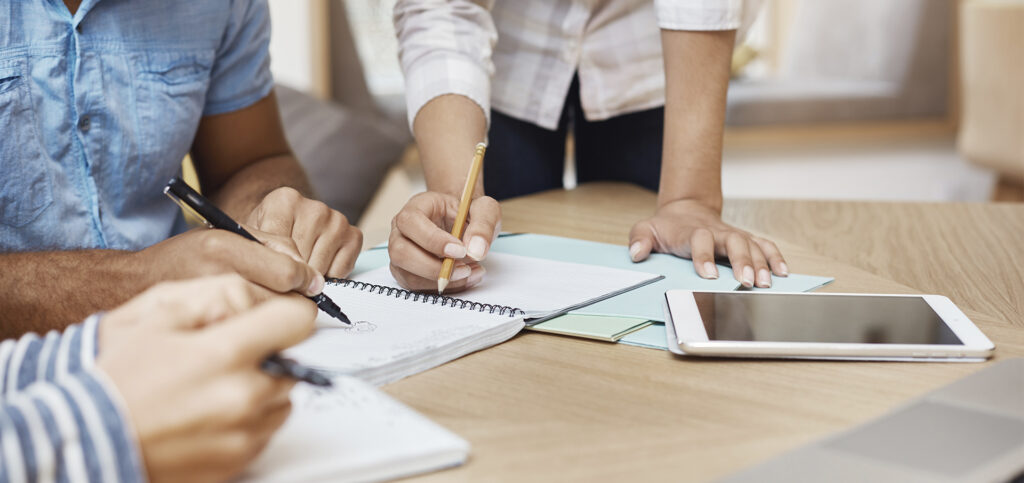 The Purchasing department: members in the procurement department will be able to analyze competitors' new products, improve conversations with suppliers to negotiate better conditions during the purchase process.
Category Managers: can benefit from product attribute analysis to assess whether product data in their web catalog is comprehensive and informative enough.
Types of captured data
As you probably know by now, data is king and with it, you can better understand your business in the market. However, it is very important to have a complete overview of this market to truly be able to succeed. It is very common to obtain the data from marketplaces such as Amazon and/or Google Shopping. However, you can also obtain critical competitive intel by taking into account sources like the direct web. The ideal scenario here would be to have access to a solution that feeds itself from multiple data sources, including direct web.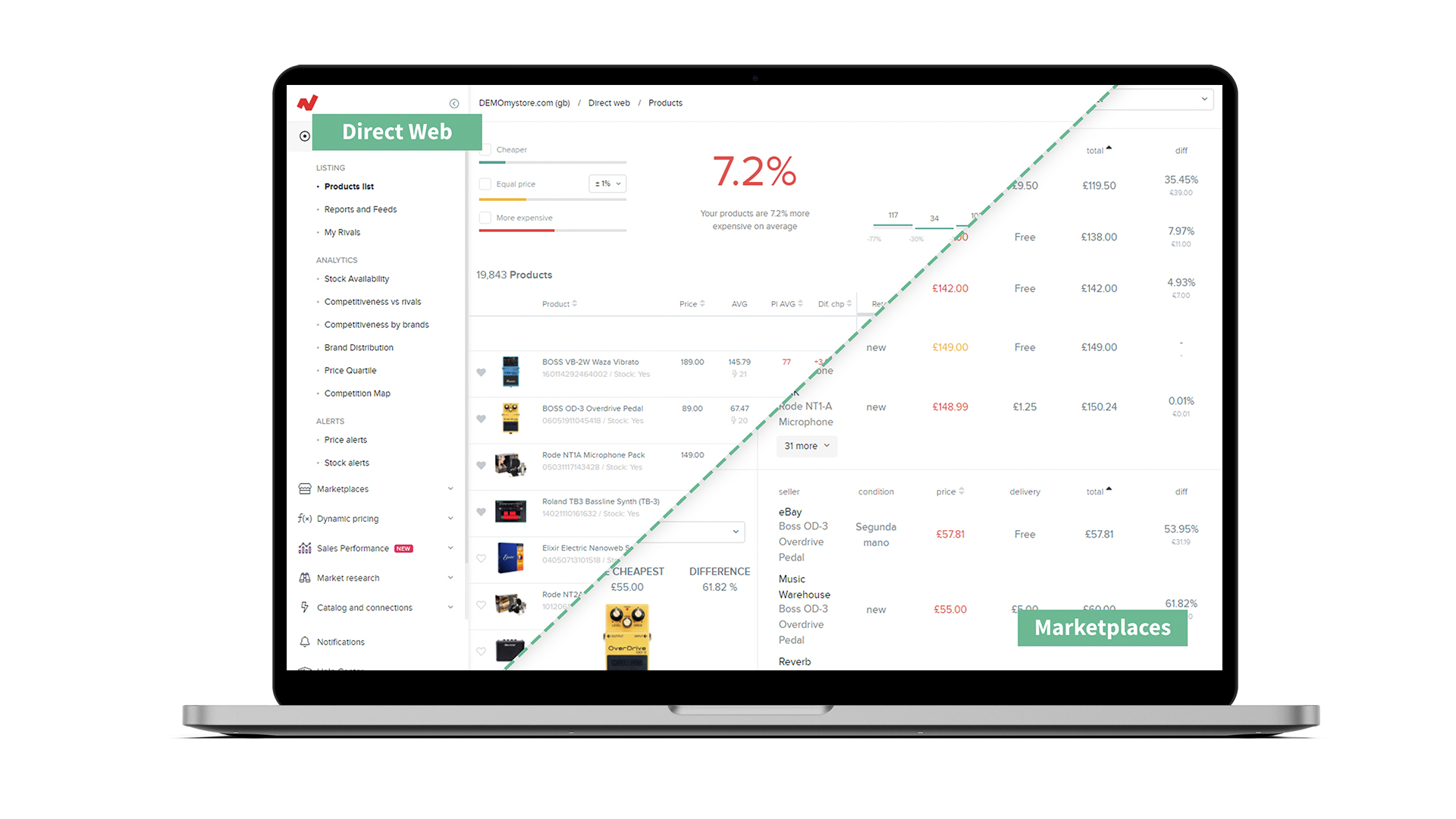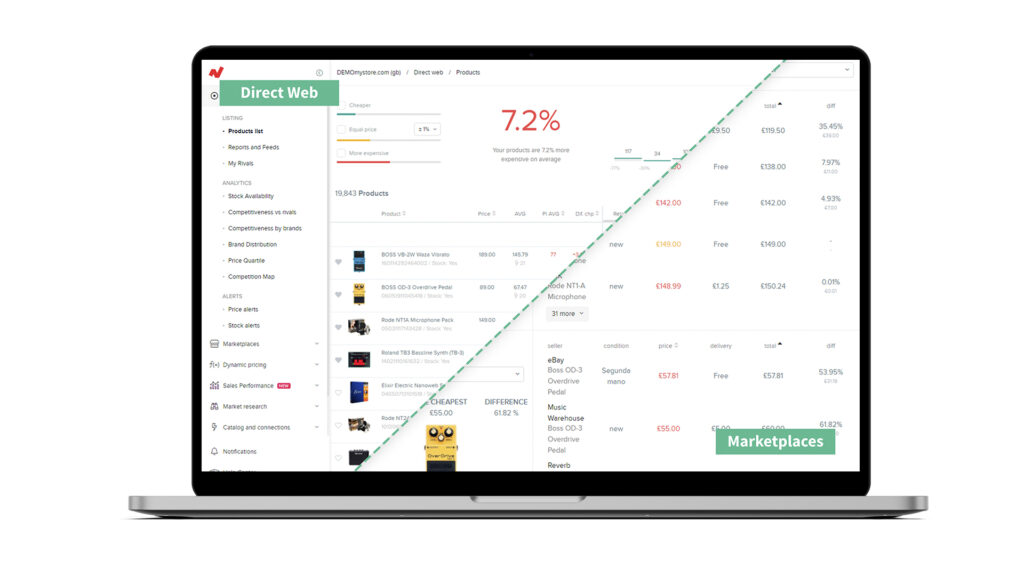 It is important to clarify that all the information obtained by these product analysis solutions is publicly available. The main advantage point here is that this type of tools collect all this data automatically so that everyone in your team can get to save a lot of time, effort, and of course resources, that can be then invested in other areas of your business that may require it.
The benefits of adding Direct Web as a source of information
When capturing data from what we call direct web you get to see a bigger picture of the market because the information captured is not limited to the products promoted on a marketplace. But what does this exactly mean and how is this beneficial to your decision-making process? With this larger view of the market you will be able to see stock availability among different retailers, all products that they have on their website, assess who is selling what online, and detect price differences quickly. Also, while using a Big Data solution that extracts data from direct web, like the case of Netrivals, will give you full access to all price changes history, analysis and connection of products based on attributes and image recognition and best of all, dashboards and BI reports based on all the data captured so that you can read and process all data gathered in a fast and convenient way. This whole set of possibilities will help your team become more agile when it comes to making conclusions, obtain insights and therefore make better pricing and product decisions.