When talking about launching a new product today, it's important to choose the strategy that works best for your project. This is why there is a BCG Matrix which is a tool that helps you graphically determine the best approach that you can offer to your business and helps you set prices based on the cost-effectiveness of each product. 
The BCG Matrix or Growth Share Matrix is an essential strategic marketing tool for businesses because this matrix helps companies analyze their product portfolios and propose the most appropriate strategies for implementation. The matrix consists of two axes. The vertical axis represents the market growth rate (demand for products in the market), and the horizontal axis represents the market share (sales of our products / total sales of products in the market).
This matrix can be used to perform internal analysis to provide appropriate metrix so that companies can decide which products to invest resources in and which products to invest resources in.
This is a very simple matrix for decision making, consisting of 2×2 quadrants, suggesting the most appropriate strategy for each, depending on the situation.
What are the components of the BCG matrix?
Star

: This includes products that are beginning to show good profitability as soon as they are brought to market. Therefore, they increase sales and profits, but require  high investment and special skills to place the goods. 

Question mark:

The product here is still on the market. These are innovative products, but they are not yet on sale as they are just beginning to hit the market.

Cow:

The products  in this segment are integrated into the market and will not continue to grow, but sales volume is stable.

Dogs:

These products are in the final stages of their life cycle. Their growth is declining as well as their market share.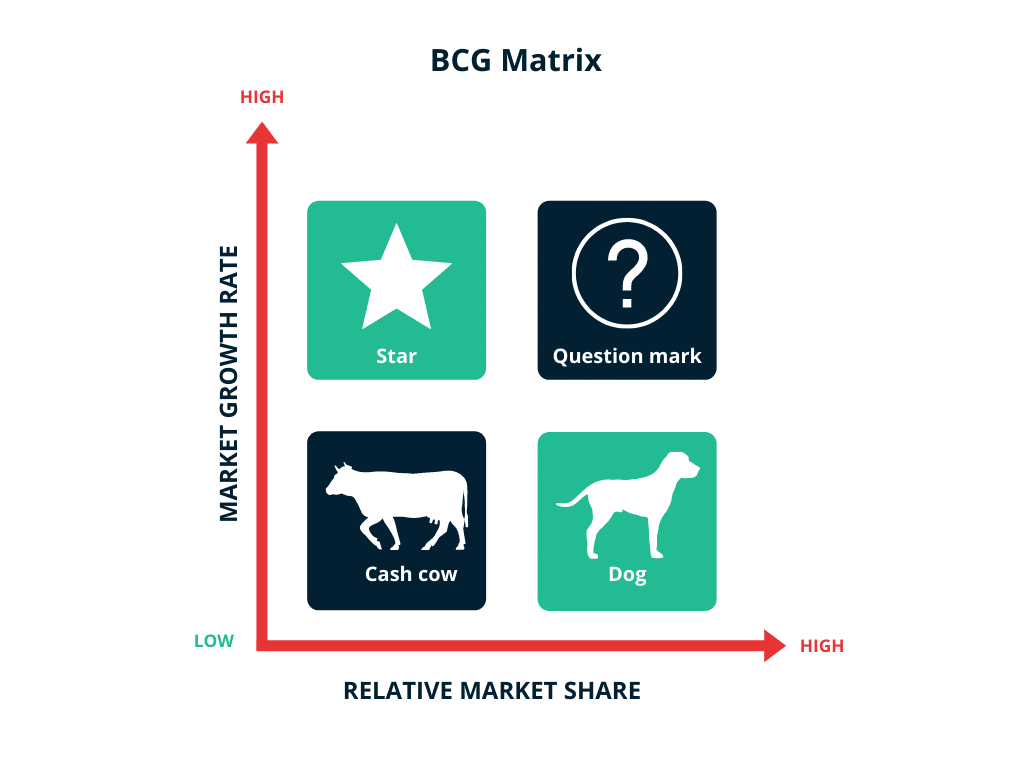 What is the BCG matrix used for?
The main purpose of the BCG Matrix is to help you determine in which of your products you should invest additional resources. 
In other words, with this matrix, you will analyze your portfolio of activities to determine what is your best and worst resource in terms of return on investment.
By applying this matrix, you will learn the channels you can use to increase your return on investment. The profitability of each of these channels depends on the fixed price.
Why BCG matrix can be important?
Choosing the right strategy will determine the correct achievement of your set business goals. As we have found, the BCG Matrix helps you make strategic decisions regarding investment and management of your product portfolio.
Keep in mind that future forecasts and product positioning are important points to analyze in e-commerce and business in general.